A few words about the Villa Florida and its history...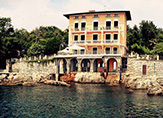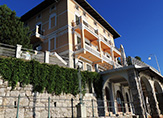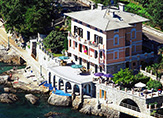 The private Villa Florida is the place which harmoniously combines the historical beauty and the modern times.
It was built exactly one hundred years ago by E. Schody – the architect from Vienna.
The Villa was completely restored in 2007, but outside it retained most of its centennial shine, colored with nostalgia, and inside it is equipped with everything we expect from the modern surroundings.
The Villa is situated exactly on the coast, in Ičići, the pearl of the Opatija Riviera.
In front of the Villa passes the famous 12 km promenade "lungo mare".

Nearby is Učka, ACI marina, tennis courts, lungo mare promenade, Opatija and Rijeka – the important cultural and business centre of the region. Approximately an hour away from the Villa one can enjoy the skiing on the Platak and the natural beauties of Gorski kotar. All that guarantees the pleasant stay in the Villa throughout the whole year. The climate, the location, the tradition and the quiet surroundings give the special atmosphere to the Villa during the whole year.

The summers are warm and shady, the winters are mild and without the snow and the spring and the autumn are magical and healthy.

The Villa is the private property where during the year its owners live as well.
It is especially interesting for the business people from Europe and wider, who are in any way connected to this region.
We recommend you to stay in the Villa for the longer period.
Two luxurious apartments in the Villa Florida are for rent throughout the year.